(Last Updated On: August 5, 2018)

The innovative and revolutionary new ETABS is the ultimate integrated software package for the structural analysis and design of buildings. Incorporating 40 years of continuous research and development, this latest ETABS offers unmatched 3D object based modeling and visualization tools, blazingly fast linear and nonlinear analytical power, sophisticated and comprehensive design capabilities for a wide-range of materials, and insightful graphic displays, reports, and schematic drawings that allow users to quickly and easily decipher and understand analysis and design results.
From the start of design conception through the production of schematic drawings, ETABS integrates every aspect of the engineering design process. Creation of models has never been easier - intuitive drawing commands allow for the rapid generation of floor and elevation framing. CAD drawings can be converted directly into ETABS models or used as templates onto which ETABS objects may be overlaid. The state-of-the-art SAPFire 64-bit solver allows extremely large and complex models to be rapidly analyzed, and supports nonlinear modeling techniques such as construction sequencing and time effects (e.g., creep and shrinkage).
Design of steel and concrete frames (with automated optimization), composite beams, composite columns, steel joists, and concrete and masonry shear walls is included, as is the capacity check for steel connections and base plates. Models may be realistically rendered, and all results can be shown directly on the structure. Comprehensive and customizable reports are available for all analysis and design output, and schematic construction drawings of framing plans, schedules, details, and cross-sections may be generated for concrete and steel structures.
ETABS provides an unequaled suite of tools for structural engineers designing buildings, whether they are working on one-story industrial structures or the tallest commercial high-rises. Immensely capable, yet easy-to-use, has been the hallmark of ETABS since its introduction decades ago, and this latest release continues that tradition by providing engineers with the technologically-advanced, yet intuitive, software they require to be their most productive.

ETABS 17.0.0 Enhancements
General quadrilateral meshing of floor areas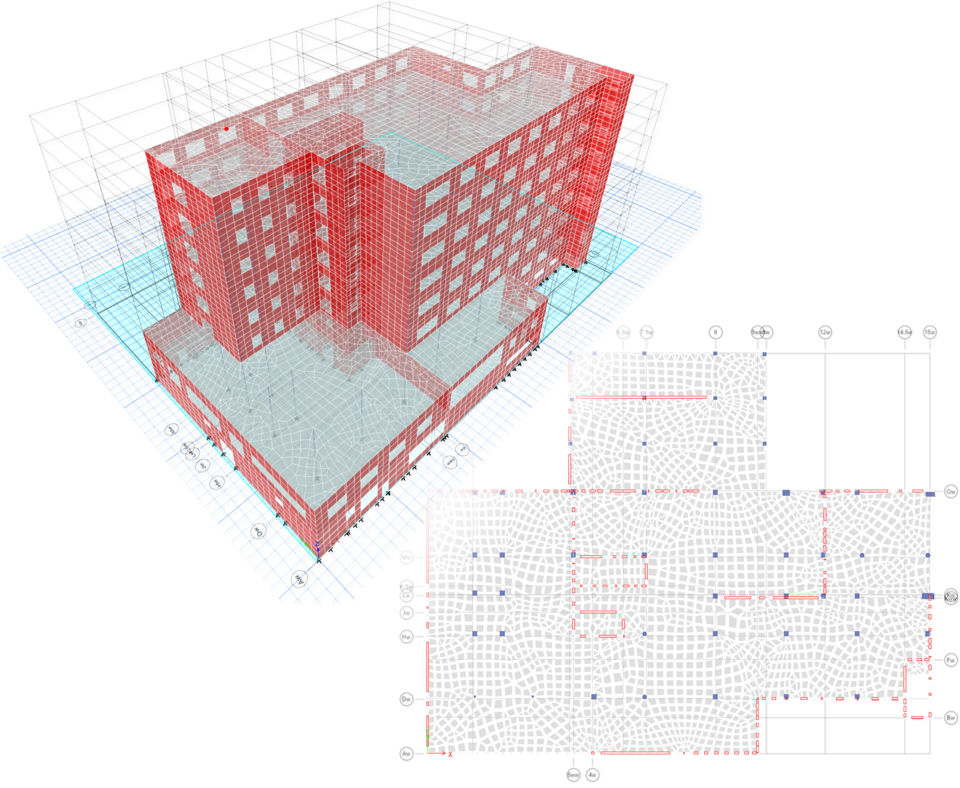 User-defined internal mesh for shells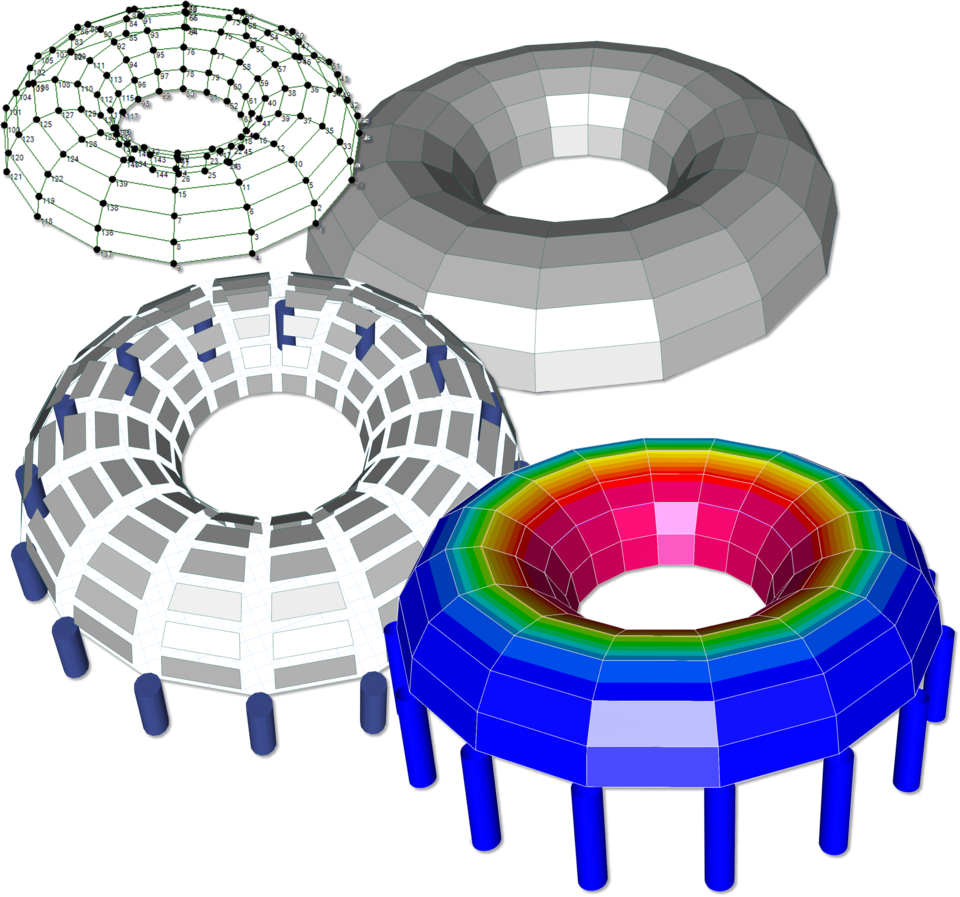 Improved merging of floor areas by removing common edges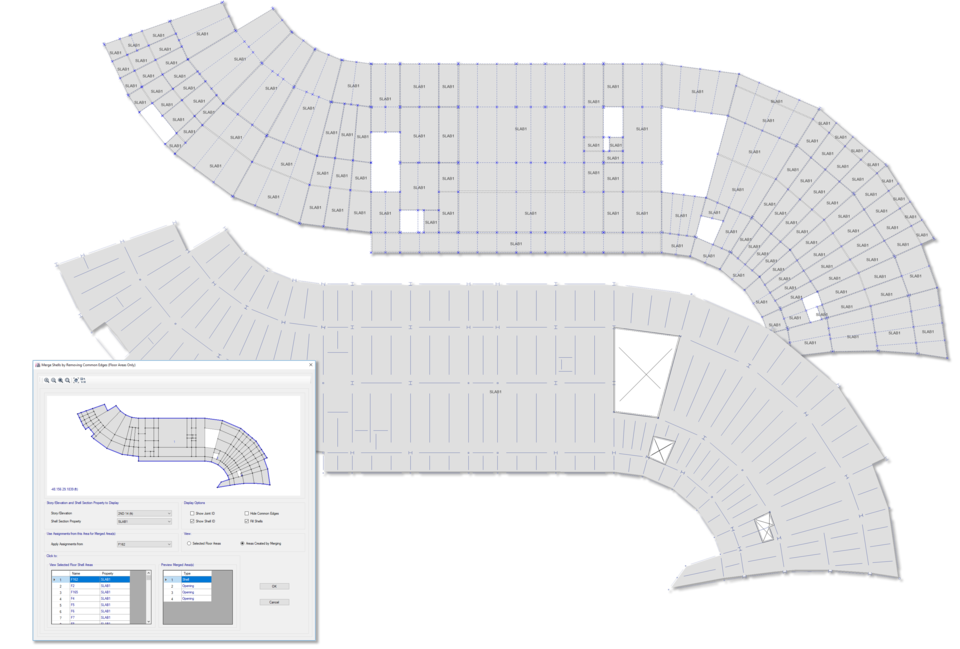 Ability to automatically add rigid-zone areas over columns and walls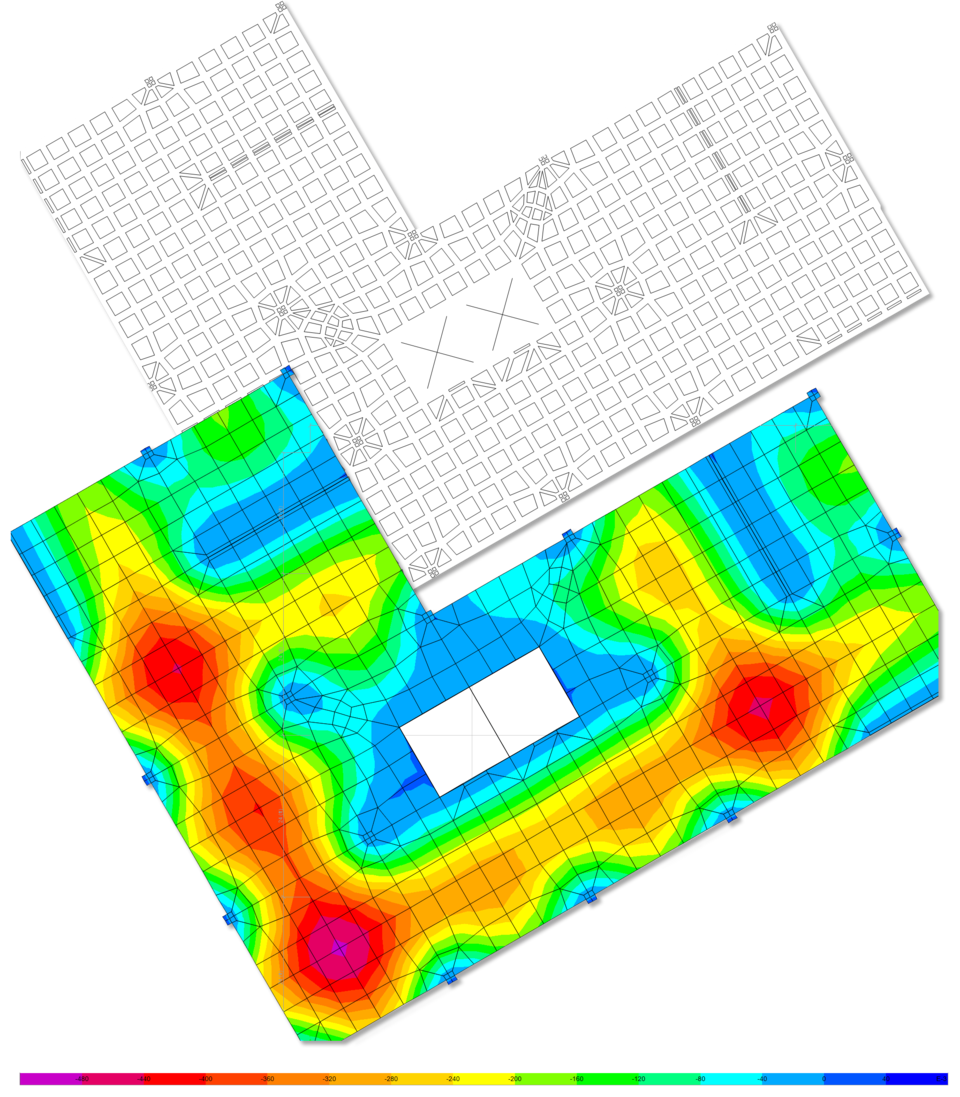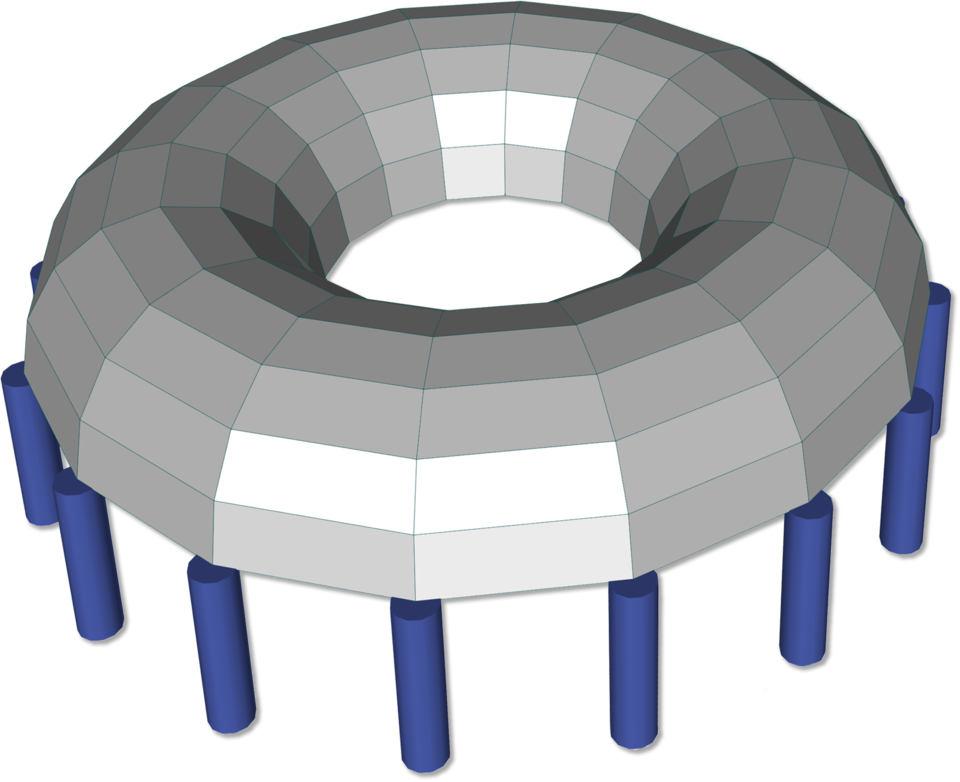 New link property to represent high-damping rubber-bearing isolator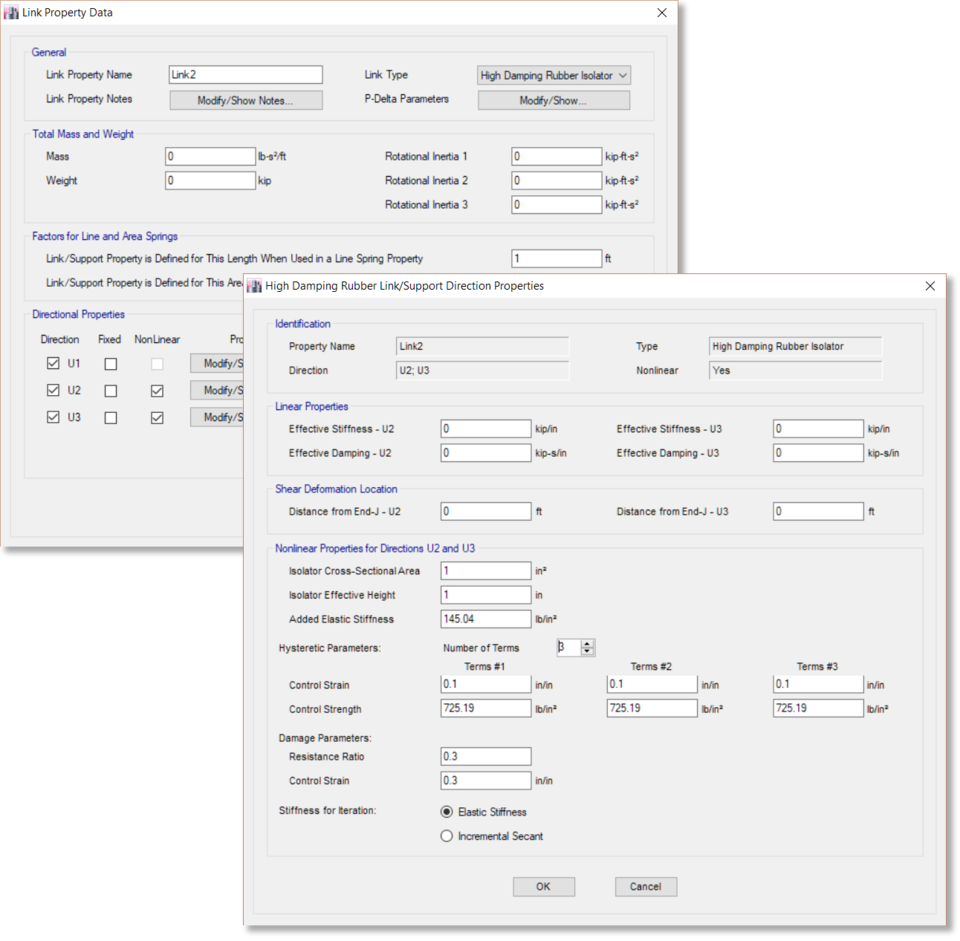 Multiple controlled displacements for static pushover analysis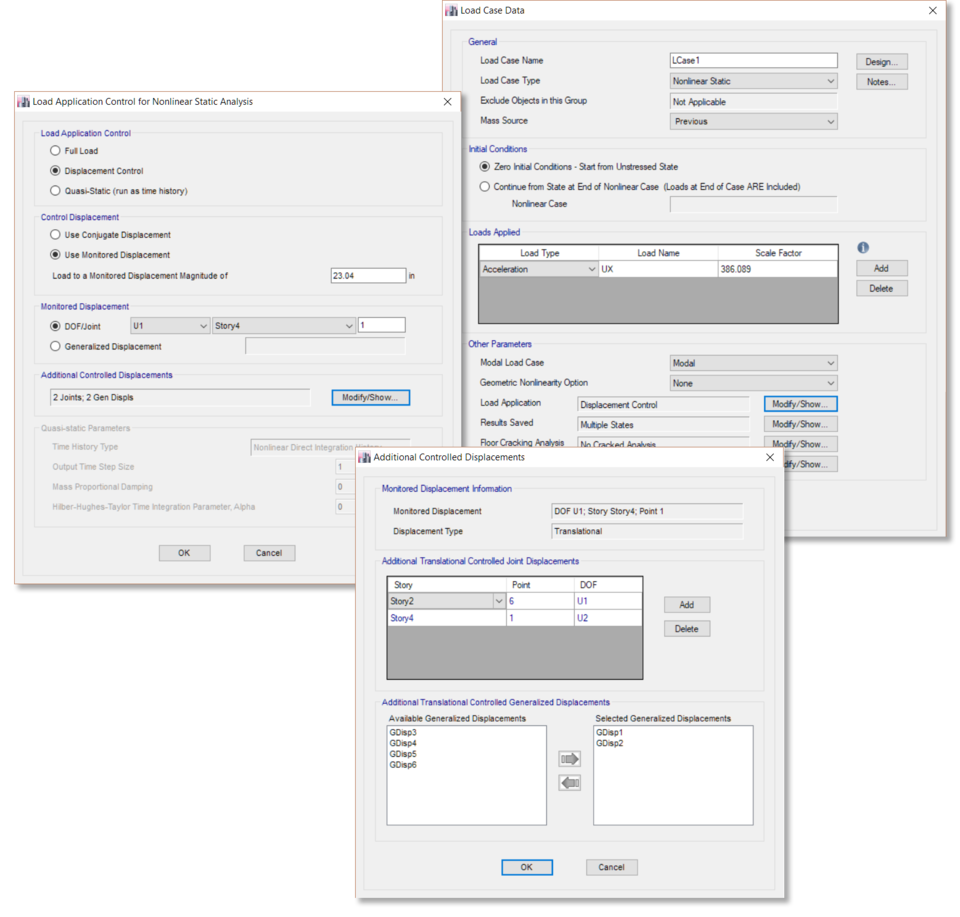 Link properties can be used for line and area springs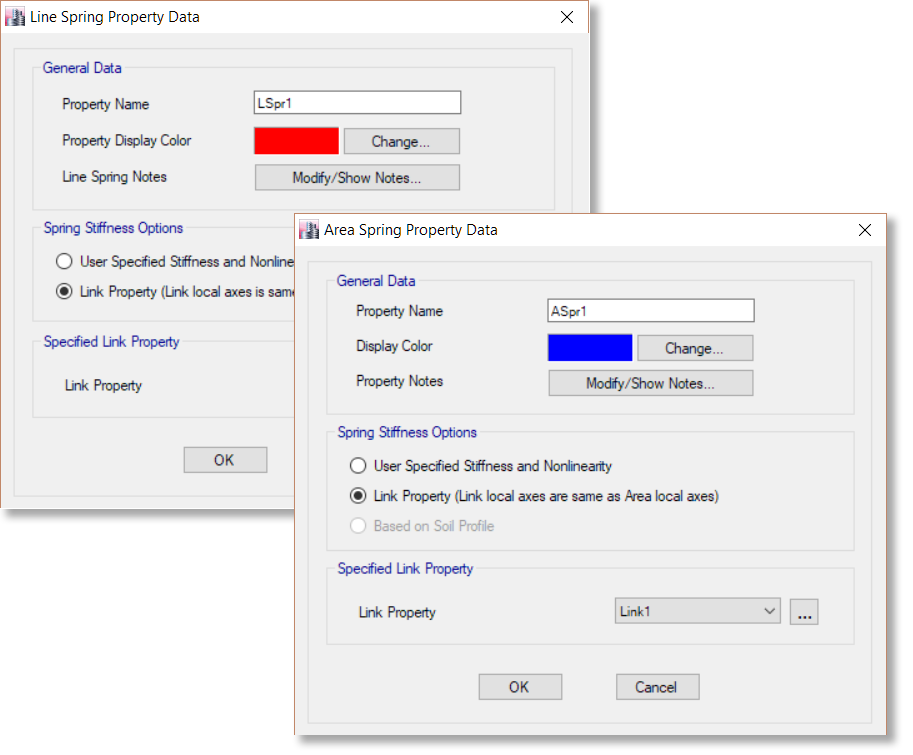 Strain response for shell objects (walls and floors)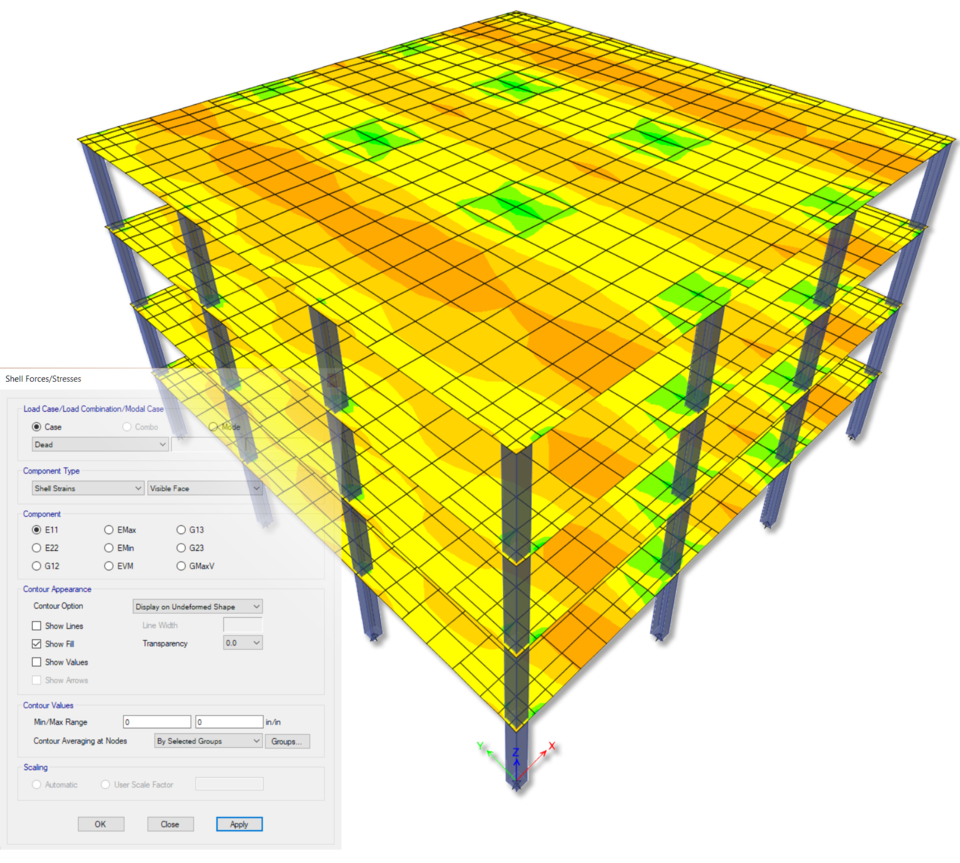 Option to control the slope of steep strength-drop in frame hinges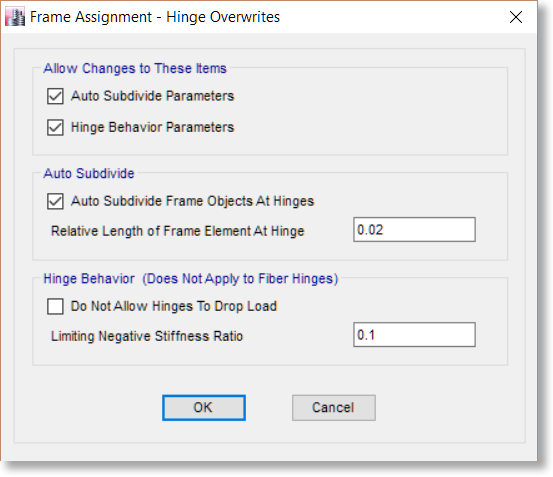 Improved convergence behavior for displacement-controlled nonlinear static load cases
Non-iterative event-to-event option for nonlinear static analysis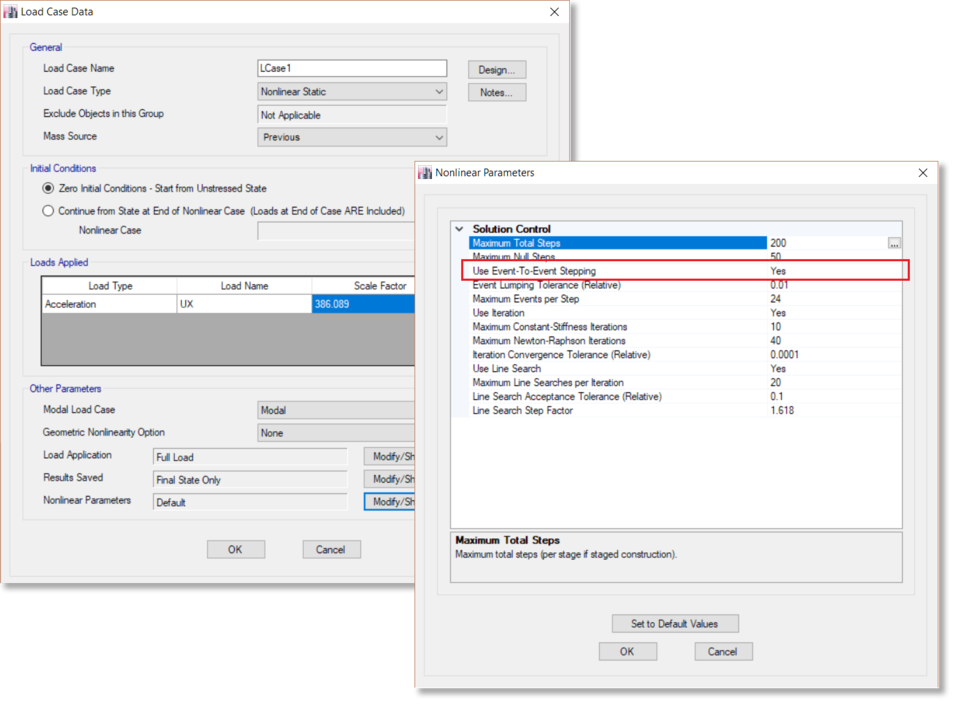 Increased speed and reduced storage for running and displaying results of nonlinear load cases
Performance Based Seismic Design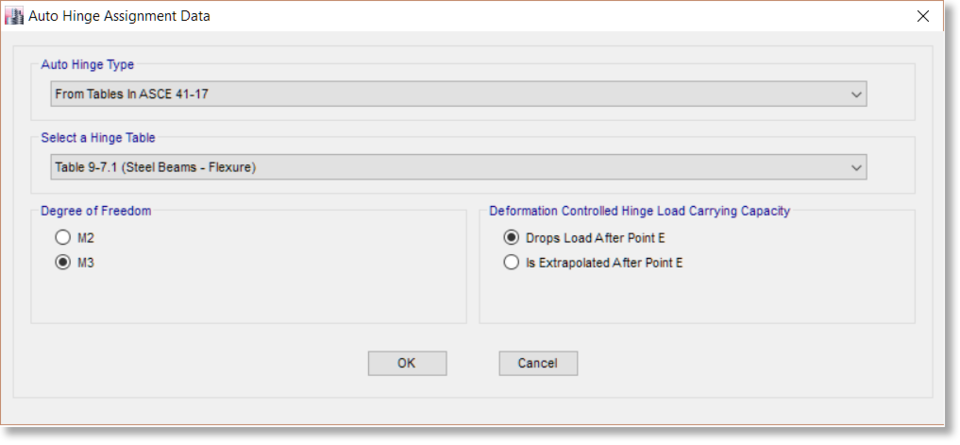 Optional points BC and CD on hinge backbone curves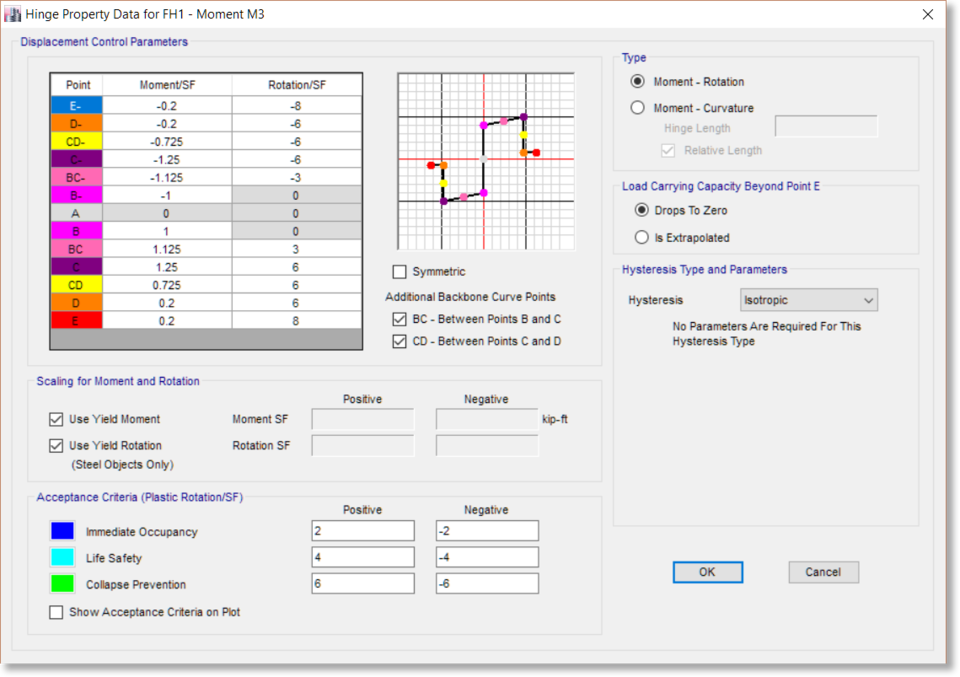 Auto-wind loading according to the ASCE 7-16 code and Korean Building Code (KBC 2016) added.

Auto-seismic loading according to the ASCE 7-16 code, Korean Building Code (KBC 2016), Indian Standard Code (IS 1893:2016) and Turkish Seismic Code (TSC-2018) added.

Automated response spectrum functions according to the ASCE 7-16, Korean Building Code (KBC 2016), Indian Standard (IS 1893:2016) and Turkish Seismic Code (TSC-2018) added.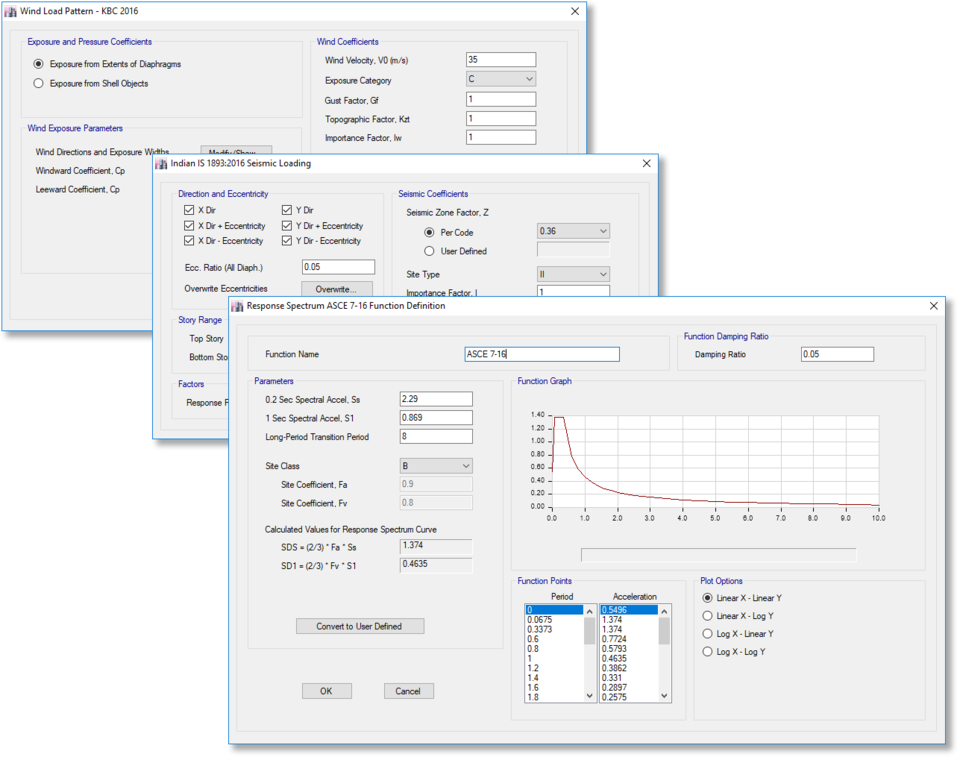 International Design Codes
AISC 360-16 composite beam design added.

AISC 360-16 steel frame design added.

NTC 2018 Steel Frame Design added.

IS 456:2000 concrete frame design updated for the IS 13920:2016 seismic code.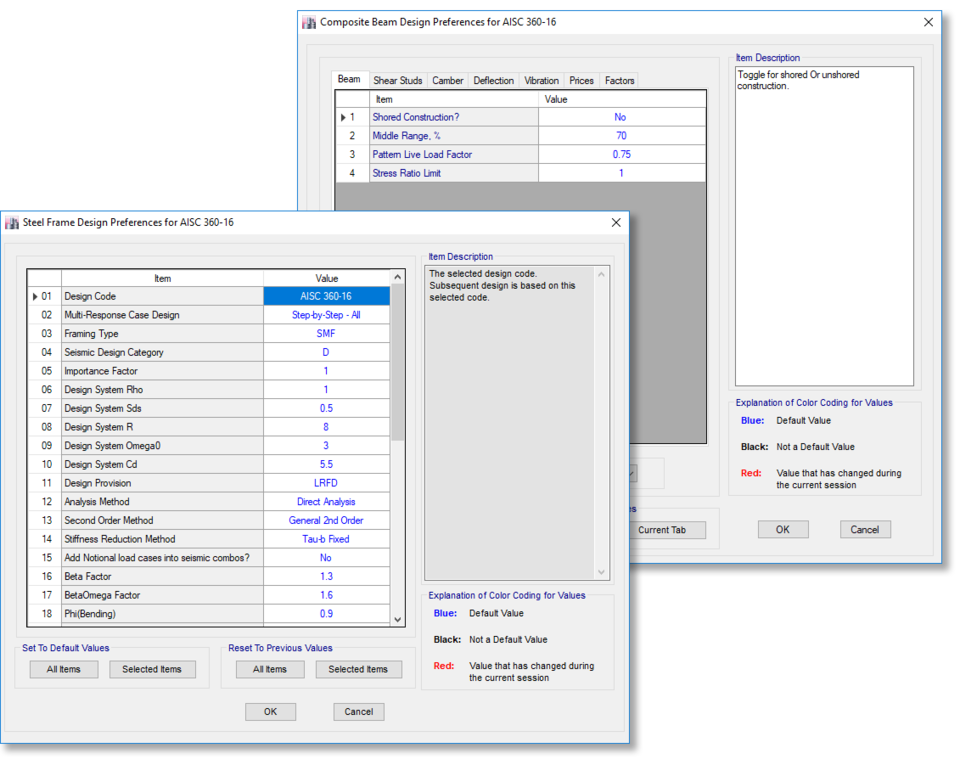 Parallel processing has been implemented for running design (all types)
Automatic concrete column design to achieve strong-column/weak-beam connections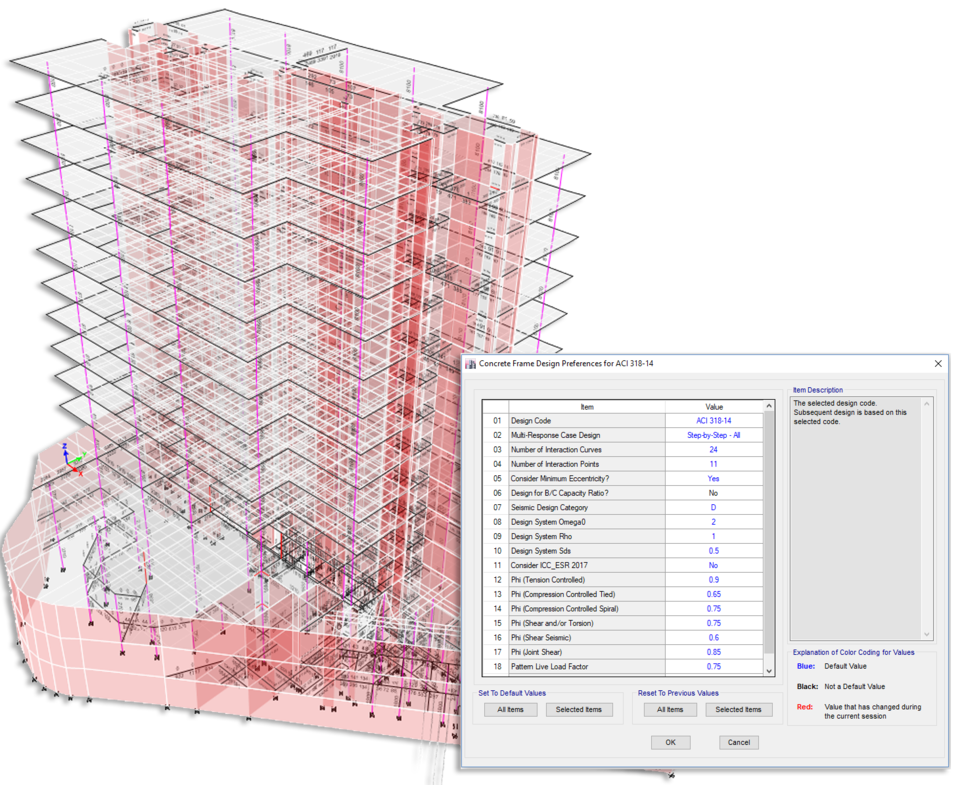 Implementation of AISC Design Guide (DG) 11 for composite beam design based on AISC 360, CSA S16 and Eurocode
Web penetrations for composite beam design based on AISC 360-16, AISC 36-10 and AISC 360-05 codes
Details